By Jane Grates, Guest Blogger
Now that we're heading into summer, we can finally safely say that we're putting a long, cold, and dreary winter and spring behind us. Soon our days will be packed with abundant amounts of sunshine, lots of toasty warm temperatures, and the lovely sounds of children playing outside all day long.
From winter sitness to summer sit less.
Many people struggle with their fitness routine through the doldrum and nasty winter months. If you haven't already restarted or reignited your fitness routine now is a fantastic time to start. Take your inspiration from the abundant sources that nature is providing you, and before too long, you'll be well on your way.
Kickstart your summer fitness motivation with these great tips to help you get excited for upping your fitness this summer. They include:
Summer weather can be delightful.
Summer temperatures usually mean the ability to go swimming outdoors, running outside and the ability to stay outside without fear of losing your digits to hypothermia. Whether you're an avid golfer, a walker, a runner, or a baseball aficionado, the welcoming summer temps can be a huge reprieve after a long winter of less-than-ideal weather. Gravitate toward an activity that makes you excited to exercise, and it won't ever feel like work.
Summer sunrises and sunsets are second to none.
With the nicer summer weather comes the beautiful sunrises and sunsets. You'll be treating yourself each time you do to nature's real gems. Starting (or ending) your day with a sunrise or sunset is incredibly invigorating. You may even find that it puts you in a great mood for the rest of the day.
Summer weather means showing more skin.
Showing more skin obviously makes you think of swimwear, but even if you're not spending your days at the beach or pool, if you're lucky enough to work in an environment with a more relaxed summer dress code, you may find that you're able to get away with wearing more summery clothing, such as sundresses, tank tops, and shorts.
There are tons of health benefits to exercising, of course, but in addition to that, regularly exercising has a way of making you feel more comfortable and confident in your own skin — and perhaps more willing to wear that super comfortable summer sundress to the office.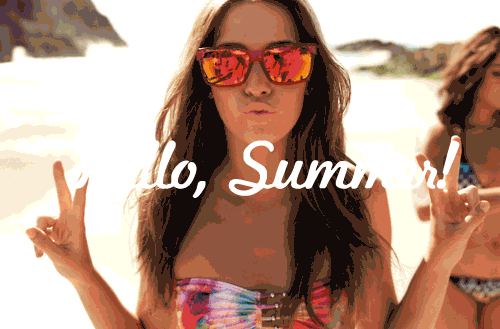 Playing in a summer league is a great way to meet people.
Many cities offer summer recreation leagues for sports ranging from baseball, softball, to rugby and even kickball. It's a fantastic way to meet other people who are similarly committed to their health and fitness as yourself. Who knows? You may even meet Mr. Right or Miss Right at the next soiree.
We dream about summer barbecues all year long.
Finally, when you're exercising regularly, you tend to gravitate toward healthier eating choices more often than not. If you're like most people, you probably spend time dreaming about summer barbecues and cookouts, with perfectly grilled proteins, fresh produce, and refreshing beverages. When you have a regular fitness routine, you'll appreciate these seasonal celebrations even more. You will find yourself enjoying the deviations from your regular dietary routine.
There's no time like today to start or re-start a great fitness routine.
Summer will be here before you know it. So will all of the summer festivities, like parties, picnics, barbecues, and parades. There's so much good stuff to do, see and eat. Having a great fitness routine in place can become an essential backbone of your daily routine. Make it your "me" time that you devote yourself to each and every day.
About the Author…
JANE GRATES is a certified hiker and adventurist. Working at the crossroads of modernism and computer science to develop visual solutions that inform and persuade.
More articles you may enjoy…
Products picked just for you…
We would love to hear from you!  Leave your love in the comment section below or email us at [email protected].
Like us on Facebook, follow us on Twitter, Pinterest, YouTube, and Instagram!
Don't forget to sign up for our Newsletter!